About Basix Plastix
"Your Local Water Tank Specialists"
Basix Plastix rainwater tanks allow you to control your water supply and enjoy the pleasures of great tasting, pure water. One of the flagship the Basix Plastix manufactured tanks has an inbuilt child-safe system. The tank inlet design aims to prevent the tragedy of children drowning in rainwater tanks. The Basix Plastix rainwater systems feature a built-in moulded section underneath the strainer that prevents child access inside the tank. This acts as a child safety device in the event of strainer collapse or if the strainer was left out.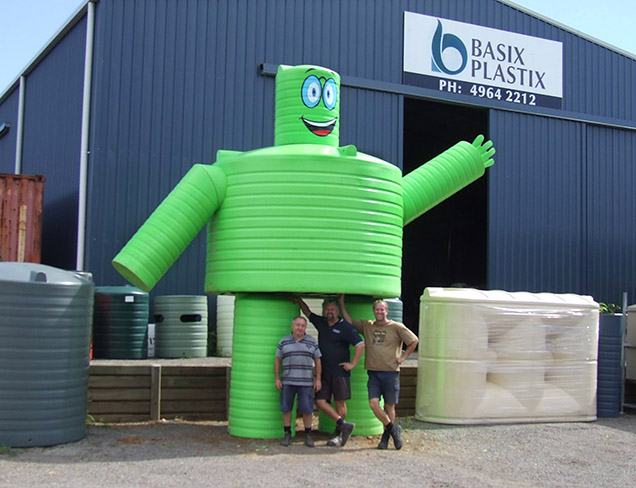 Our History
A proven track record in rotational moulding industry has allowed Glenn Woodward and Jim McInnes to research customer tank preferences and these have been built in their water tank designs. Basix Plastix water tanks are manufactured using a rotational moulding process, which produces a one-piece, seamless, watertight tank and includes a ribbed design that gives the tank added strength.
Made from the high-grade polyethylene, Basix Plastix rainwater tanks are flexible and durable units that provide many years of trouble free service. Our tanks are backed by a 20-year warranty and are available in all the standard COLORBOND® Steel colours. All tanks are supplied as multi fit-out units with 400mm meshed fitted strainers and 1-inch BSP brass inserts.
In addition we offer a variety of other rainwater tanks to suit your requirements, preferences and spaces. Contact the Basix Plastix Team today.